Average

Joined: Tue Apr 04, 2006 11:25 pm
Posts: 49


The exterior of the happening "Dish Java" club/ristorante.




Cafe Room 1, the interior room in which talking is permitted and patrons can associate with one-another.




Going up a flight of stairs near the back of the building takes you to the quiet lounge room. Here you have the same food and drinks provided, but in a quiet working atomosphere.




In the furthest corner of the cafe stands this steel door. A burly man stands guard there, letting in only people who've had other members vouch for them. Beyond this stairs leads you to the basement under the building.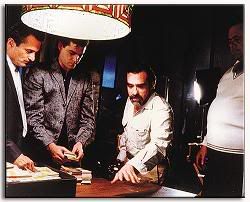 Once you've entered into the basement, you've entered the hottest underground joint in town. On most nights of the week the basement is flustered with all types of people, men, women, of all ethniticites, getting together and playing casino games. There's a high stakes poker table, black jack, standard numbers games, craps, you name it and odds are they play it there. Everyone behaves well after a certain man thought he could stiff the joint and cause a fight in the place. Patrons learned to be on their best behavior after the man mysteriously "tripped" outside the building and ended up with a broken jaw, cracked ribs, broken nose, orbtial fractures, and some home-made dental work. It's all in good fun, and enormous profit for the owner of the place.

All in all it's a great place during the day to catch a cup of Java and read, and at night to have a blast gambling.

NPCs used:

[2x] Laborers/Waiters
[1x] Chef